Because I'm Orel Fucking Hershiser!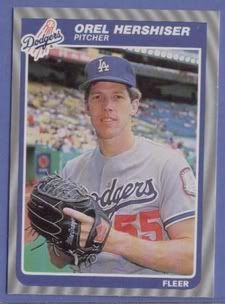 This is absolutely ridiculous. You're going to stand there and look me in the eyes and tell me I can't come into your
Misshapes DJ dancing party
? ME!?! I mean, do you even know who I am?
I was a professional baseball player in the Major Leagues! A pitcher. For the Dodgers. That's in LOS ANGELES! Maybe I'm not dressed "fly" like these other cool cats going into your nightclub here, but I'm on motherfucking baseball cards! I am a celebrity and I want to party - with the ladies!
Why!?! Because I'm Orel Fucking Hershiser, that's why! I guess you and your thick black glasses and your sideways trucker hat and your old ripped-up AC/DC shirt don't know anything about a little sport called America's Pastime! No? Then maybe you've heard of a little thing called The Eighties? Yeah, I was HUGE back then, bitch.
Wait, who was THAT guy you just let in?
The Cobrasnake
? What the fuck is the Cobrasnake, some kind of wrestler? Wrestling's not even real! I used to play baseball with Fernando goddamned Valenzuela! I don't care if he's the hippest photographer in the WORLD, I'm Orel Hershiser! I can't believe I have to put up with this shit!
You remember when Kirk Gibson hit that game-winning World Series homerun and as he hobbled around first he did that pump-fist thing that made you feel all choked up? Yeah, well I was fucking THERE. I told him to do that - I use it as a pitching warm-up. So let me into the party NOW or I'll pump my fist into your FACE!
Come on, I'll be cool, man. What did you say to me? No, I don't have any cocaineI I don't do drugs, but I wrote a motivational book called
Between the Lines
! And I can still throw eighty-seven miles per-hour! Just let me in the fucking party, man!
I see a lot of the people you're letting in have moustaches. Now, I know I don't have a moustache, but I could. Just let me in this one time and next time I come back, I'll have a moustache, long black hair, the sunken eyes of a drug addict, a headband, and lots and lots of tattoos. I promise! Come on, what the fuck do want from me, I'm Orel Hershiser!
Alright, you know what, fuck this - I'm outta here! Just remember, man, you might think you're cool right now, standing there with your clipboard and your velvet rope, but remember this, asshole -- you'll always just be the guy who wouldn't let Orel Hershiser into the dance party. But you know what, buddy? I fucking AM Orel Hershiser.
So suck on THAT!